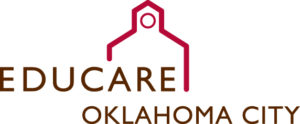 As Sunbeam's flagship early education center, Educare Oklahoma City is part of the Educare Learning Newtork (ELN). This network of schools is widely respected as one of the nation's most effective early childhood models and uses an approach that extends beyond the classroom to help children, families, and neighborhoods thrive. As its incubator of best practices from around the country, Sunbeam leverages the expertise at Educare OKC by sharing it with all of its early education centers across Oklahoma City.  
 Independent evaluations of children enrolled at Educare OKC were provided by Anselm Learning. Educare OKC teachers gather data at progress checkpoints quarterly and children receive quarterly mental health assessments, evaluations, and referrals, as needed, for additional services. +
Educare Oklahoma City partners with a variety of organizations to provide services
These partners include: Inasmuch Foundation, Hearts for Hearing, OK DHS, OU HSC, OKC Community College, University of Central Oklahoma, University of Oklahoma, Tony Reyes Bilingual Education Center, OKC Public Schools, Friends of Sunbeam, Chesapeake Energy, the Junior League of OKC, and Community Action Agency.
Educare Oklahoma City helps children in the Oklahoma City Metro area aged six weeks to five years-old prepare for school.
A calm, safe, and nurturing environment and facility
On-site access to infant/toddler mental health services including early child therapists, play therapy and more
Low to no cost for high-quality early childhood education and care
Focus on high-quality early childhood education, social-emotional development and specialized care
Healthy homemade breakfast and lunch prepared on-site daily
Small class size to ensure that children receive individualized attention
Services for children with special needs
Year-round and full-day program Monday through Friday with before and after care available
Parent/child activities for strengthening family relationships
Staff dedicated to the healthy development of children and families
Home-based and center-based programs
Bilingual staff to aide in developing language and strong relationships with children and their families
Partnership with national Network of Educare schools, providing high-quality early learning to help children, families and communities thrive
Educare Oklahoma City is for the family.
Family groups and activities
Parent and grandparent support groups
Access to parent resource room and computers
Volunteer opportunities
Fun family events
Strength-based family support to create and accomplish goals that lead to increased family and child success
On-site partnerships with agencies providing healthcare, necessities and more
Counseling support such as Parent Child Interaction Therapy, Parent classes and more
Transportation is not provided. Parents will be assisted with coordinating services as needed with bus routes and schedules.
Contact us:
500 SE Grand Blvd, Oklahoma City, OK 73129
Join the conversation on Facebook