Join us in building stronger, brighter futures for Oklahomans!
Do you share the vision of wanting to provide help, hope and opportunity to people of all ages? If so, Sunbeam Family Services may be a perfect fit for you.
Our Culture 
Sunbeam Family Services is an employee first organization to serve the community best.   Our employees are valued, respected and encouraged to grow. We believe that if employees are treated well they will, in turn, deliver the exceptional client services that we are known for in the community. Our leadership demonstrates the principle of servant leadership, which means that we place high priority on listening well to employees and reinforcing good performance and behavior. The nonprofit strives to create a workplace that attracts committed and engaged people who are focused on our values and mission to provide help, hope and opportunity to people of all ages.
View our Mission Chart to see how we support our community.
Sunbeam's Core Values
Champion Spirit: We work like a champion every day: paying attention to details and performing with excellence.
Servant Heart: We exhibit humility in serving everyone; no job is below anyone and we all work together to get the work done.
Sunny Attitude: We bring a smile, a positive attitude and treat each other with respect, ensuring a pleasant work environment.
Benefits
Sunbeam Family Services is committed to maintaining a benefits program that meets the needs of its employees and their families. The benefits package includes medical, dental, life and disability  insurance. In addition, employees have access to Sunbeam's confidential counseling services through the Employee Assistance Program (EAP), and a 403(b) retirement savings plan.
Best Places to Work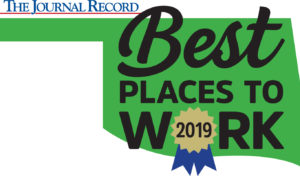 At Sunbeam we are in the "people development business", developing the people we serve as well as our staff. That's one of the reasons we were voted one of Oklahoma's "Best Places to Work" for the sixth year in a row.   We believe when employees are inspired, motivated, and treated well, they provide great service to our families.
Family Positive Workplace
Sunbeam is proud to be recognized as a 2019 Family Positive Workplace by the Potts Family Foundation and the OK25by25 Coalition. This award recognizes businesses throughout the state who intentionally help their employees balance work and family responsibilities.
Search and Apply
The foundation of Sunbeam's workplace culture comes from our mission, vision and values:
Our Mission
Our mission is to provide people of all ages with help, hope and the opportunity to succeed through Early Childhood, Foster Care, Counseling and Senior Services.
Our Vision
Our vision is that our community will be respected and modeled for how we care for our children, families, and seniors.
Our Values
We value and respect individuals and families, honoring diversity, preferences, resources, needs and concerns.
We hold ourselves to the highest ethical standards, (Exhibiting, practicing, pledging) honesty, integrity and transparency in all that we do.
We preserve our heritage of the highest quality services responsive to changing community needs, continually evaluating program goals and outcomes to ensure our work represents "best practice."
We recognize that our employees are our greatest assets and act as agents for positive change in our agency and our community.
We value reflective practice and supervision to support relationship-based work, facilitate open, clear communication, and promote life-long learning and continuous professional growth.
EQUAL OPPORTUNITY EMPLOYER – Sunbeam Family Services is fair and equal in all its employment practices for persons without regard to race, color, creed, age, gender, sexual orientation, gender identity or expression, pregnancy, religion, disability or degree thereof, national origin, domestic/marital status, political affiliation or opinion, veteran status, HIV status, AIDS status, genetic information, and any legally protected characteristic.