Upcoming Events
July 24: Free Wills & Estate Planning Seminar 1-3pm
Sunbeam Family Services and Legal Aid Services of Oklahoma Present: Free Wills & Estate Planning Seminar.  To RSVP email ahughes@sunbeamfamilyservices.org or call 405.609.6551. Please join us for this free seminar to aid in the creation of wills and estate planning. There will also be a free clinic on August 10, 2019. You must attend this seminar to qualify for the free clinic.
Family Reunion Portrait Invitation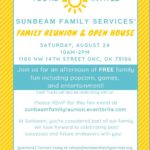 August 24 – Sunbeam Family Reunion and Open House
Join us for FREE family fun including popcorn, games and entertainment on Saturday, August 24th from 10am-2pm at 1100 NW 14th Street, OKC, OK 73106.  Food Trucks will also be celebrating with us!  Please RSVP for this fun event here.  At Sunbeam you're considered part of our family.  We look forward to celebrating past successes and future endeavors with you!  Questions? Contact Casey at cshupe@sunbeamfamilyservices.org.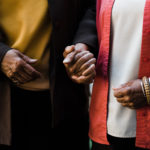 August – September: Powerful Tools for Caregivers
Powerful Tools for Caregivers is an evidence-based educational program designed to help family caregivers take care of themselves while caring for a relative or friend. You will benefit from this class whether you are helping a parent, spouse, friend, or someone who lives at home, in a nursing home, or across the country.  Click here for more information.
December 11-14: A Very Giving Christmas
Sunbeam Family Services and Catholic Charities Oklahoma City are once again partnering together to bring a very merry Christmas to central Oklahomans in December 2019.  This year, 500 families served by Catholic Charities and Sunbeam are invited to shop for toys and other gifts to place under their Christmas tree.  For more information visit AVeryGivingChristmas.org.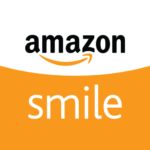 Help support Sunbeam Family Services by shopping on AmazonSmile! Shop AND give back, what could be better?
Your gift will help support Sunbeam's mission to provide people of all ages with help, hope and the opportunity to succeed through Early Childhood, Foster Care, Counseling and Senior Services.   Shop at Amazon Smile and select Sunbeam Family Services.