Our Executive Team and Board
Our Executive Team oversees the daily operations of Sunbeam Family Services with pride for and dedication to the mission. They are experts in their fields and inspire their teams with knowledge and creativity that encourages results in making a difference in the lives of children, families and seniors.
2019-2020 Board of Directors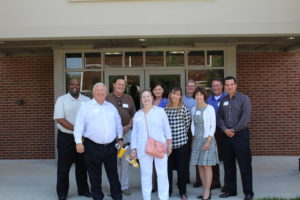 Sunbeam is honored to work with leaders whose philanthropic efforts strengthen our community.  The Board comprises community leaders and professionals who support our mission and give selflessly of their expertise, time and resources. Board responsibilities include: approving the annual budget, setting policies and procedures, raising funds and awareness and participating in strategic planning. 

Phyllis Stong, President
 Sarah Roberts, President-Elect
Cindy Fairchild, Secretary
Robert Harbison, Treasurer

Todd Bondy
Peggy Burris
Larry Davis
Sarah Glick
Kelly Gray
Chris Harrison
Candy Herrald
Gary Huneryager
Mary McCoy, Ph.d
Karen Mobly
Mark Potts
Joe Ray
Robert Ruiz
Todd Sanders
Marnie Taylor
Jeffery Weakly
Tony Welch
Robert Wood
Board Meeting Dates
Below are the dates and times of Sunbeam's Board of Director Meetings.  Meetings are held at Sunbeam Family Services, located at 1100 N.W. 14th St. at noon.   For more information contact Cynthia at cwillis@sunbeamfamilyservices.org.
Foundation Board
Craig Knutson – Chair
Doug Eason – Secretary, Treasurer
Charlotte Ream Cooper – Advisory Director
Patrick Hill- Advisory Director
James Bennett
Kelly Gray
Jane Haskin
Bob Harbison
Sarah Roberts
Phyllis Stong
Randy Thurman