Building strength, resilience in individuals and families.
Making a Difference in Young Lives
Our Foster Grandparents reap rewards when they see a child achieve success in school because of the time they have invested. Sunbeam Family Services Foster Grandparents mentor and tutor children from pre-kindergarten to third grade in reading, math problems, and teach them school-readiness skills. Our program matches a senior adult, 55+, with a school in his or her own community while providing training and resources. The Foster Grandparent Program serves a seven-county region, including Oklahoma, Canadian, Kingfisher, Logan, and Garfield.
The Foster Grandparent Program is open to volunteers 55+ who can serve between 15 and 40 hours per week. Sunbeam provides training and resources.
The program offers a tax-free, hourly stipend and mileage reimbursement to help cover costs to income-eligible individuals.
Volunteers must pass a health screening and background checks.
To become a Foster Grandparent, call Foster Grandparent Supervisor Breanna Stephens at 405.609.8947, or email bstephens@sunbeamfamilyservices.org. You may also print and complete the form below and mail to Sunbeam Family Services, Attn: Foster Grandparent Program, 1100 NW 14th Street, Oklahoma City, OK 73106.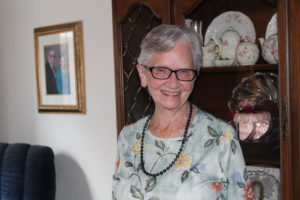 Martha Counce retired in 2014 after 30 years as a legal secretary and knew that she didn't want to "sit and do nothing," she said.   Working with children was something she loved and so she reached out to the Enid School Board to ask if there was a way to volunteer with the schools. Martha was connected with the Foster Grandparent program when it was still a program of the Oklahoma Department of Human Services, later becoming a Sunbeam Family Services program.
After going through the trainings she was placed with Enid's Chisholm Elementary School, once known as North Enid School, which is where she attended school as a child.
Some Foster Grandparents work directly in the classrooms, assisting teachers. Martha works at the school every day and sets up a table and chair in the hall, where she spends 30 minutes one-on-one with children helping with remedial skills—learning the alphabet and strengthen reading skills. But sometimes it's simply encouragement.
"I try to always smile at them and love on them," Martha said. "I've had kids come up to me and ask, 'What do you have to do to get to go out in the hall with you?'"
"I don't think you can do anything else more rewarding than working with children," Martha said. "It's exhilarating to see the children's expressions change when they start to get it."