Building strength, resilience in individuals and families.
Enter to be Oklahoma's Next Kid Governor!
Sunbeam Family Services and the Oklahoma Institute for Child Advocacy (OICA) are looking to select its third Oklahoma Ki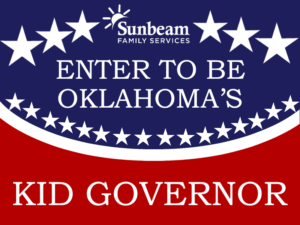 d Governor to be the voice and face of the agencies' "Vote 4 Kids" and "2018: Year of the Child" campaigns that will address statewide issues affecting the well-being of Oklahoma's children.
To be selected as Oklahoma Kid Governor, candidates must be between the ages of 7 and 11 years old, live in Oklahoma, and submit a one-minute campaign video to Sunbeam Family Services outlining:
Who they are (name, age, school and where they live)
Why they want to be Oklahoma's Kid Governor
What qualities and skills as a spokesperson they will bring to the position
Talk about an issue involving the state's children that they think is very important and why it's important. The issue could be child abuse and neglect, education, foster care, physical or mental health of children or any topic chosen by the candidate.
Videos longer than one minute will be disqualified.
The person selected as Kid Governor in this statewide search should be out-going, able to speak well, have a sense of humor and be passionate about helping other people—especially kids.  In addition, the Kid Governor must be willing to travel to Oklahoma City to appear at live gatherings and in videos without compensation.
Oklahoma's Kid Governor will be selected in late July by committee members from Sunbeam and OICA and will serve until July 2019. Throughout the "Vote 4 Kids" and "2018: Year of the Child" campaigns, he or she will do some public speaking and will appear in short video presentations to help raise awareness of issues affecting children and to help make those issues a priority in the minds of Oklahoma's citizens and policy makers.
Oklahoma's Kid Governors have represented Oklahoma's children by helping to raise awareness about foster care, the need for quality education, poverty and hunger across the state.
Please submit your Oklahoma Kid Governor videos by July 13, 2018 to Jane Meeks at jmeeks@sunbeamfamilyservices.org or post to the Sunbeam Facebook Page www.facebook.com/SunbeamOKC.