Shine a Light 2019 was a huge success, raising a record-breaking $230,000 net for Sunbeam Family Services. The success would not have been possible without the generous support from our sponsors, guests, volunteers and event committee.
For information about Shine a Light 2020, contact Sarah England at 405-609-8994 or sengland@sunbeamfamilyservices.org.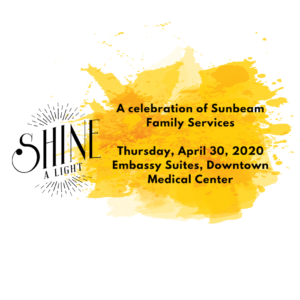 At the 6th annual Shine A Light gala, join us in shining a light on Sunbeam's mission of providing people of all ages with help, hope, hope and the opportunity to succeed through Early Childhood, Foster Care, Counseling and Senior Services.
Join us for a fun evening featuring a delicious dinner, tasty drinks, incredible raffle items, one-of-a-kind silent auction items and more! Must be 21 to attend.
Purchase tickets or sponsorships at www.ShineALightOKC.org or by calling Sarah England, 405-609-8994 or email sengland@sunbeamfamilyservices.org.