Building strength, resilience in individuals and families.


Sunbeam and OICA Select Audrey Patton as New Kid Governor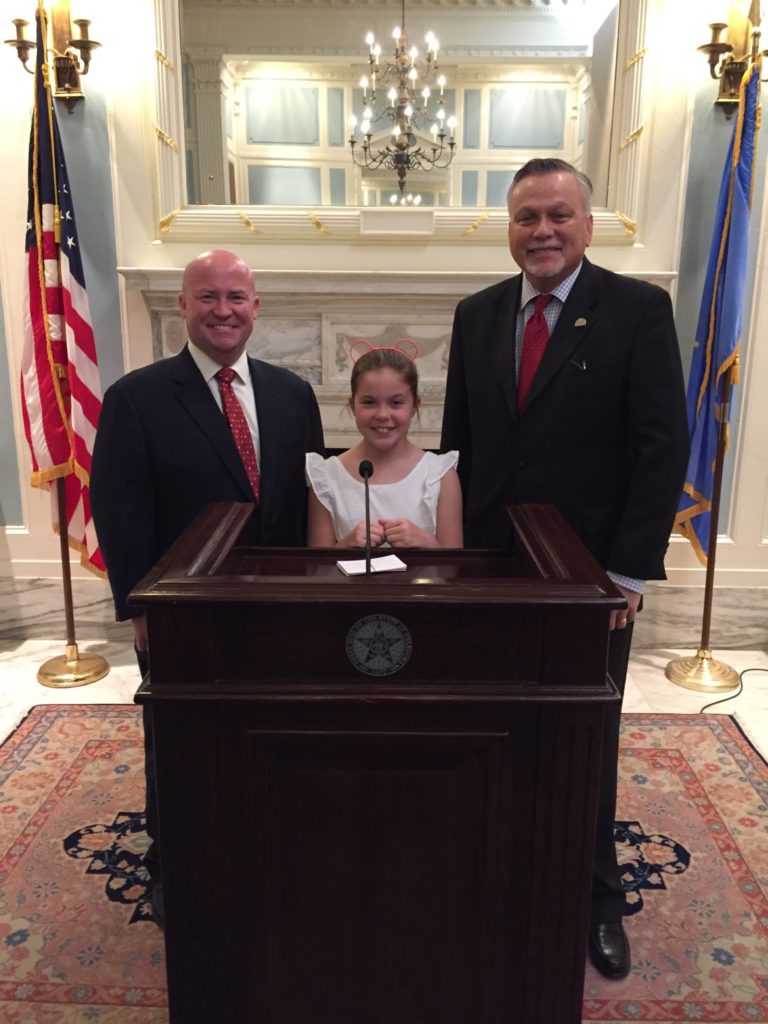 Sunbeam and the Oklahoma Institute for Child Advocacy (OICA) have selected 10-year-old Audrey Patton as Oklahoma's next Kid Governor! The two organizations introduced her today at the State Capitol, where she gave her acceptance speech and was interviewed by the press.
Audrey, a fifth-grader at St. John Nepomuk Catholic School in Mustang, was one of 18 children ages 7-11 who submitted videos (watch Audrey's video here) for the  "Vote 4 Kids" campaign led by Sunbeam and OICA. Kid Governor will serve until the Fall 2017 Oklahoma Kids Count Conference.
During Audrey's term, she will address issues affecting the well-being of Oklahoma's children such as foster care, childhood poverty, early childhood education and mental health.
Audrey says she wants Oklahomans to pay attention to issues that affect the state's children, specifically food insecurity. Daughter of William and Megan Patton, Audrey's video addressed child hunger and safe homes for children.
"I don't want any child to go to bed wondering where and when their next meal is," said Audrey, who volunteers at the Regional Food Bank. "Children are most vulnerable during the summer when school is out."
Oklahoma's first Kid Governor, Justin Evers, brought awareness to childhood issues, specifically the need for foster homes.
Audrey's next public appearance will be at Sunbeam's Shine a Light fundraising gala on April 13 at Embassy Suites, Downtown Medical Center at 6:30 p.m. Learn more at ShineALightOKC.org.
---
A Note from Last Year's Kid Governor, Justin Evers
My name is Justin Evers and I am the Kid Governor of Oklahoma. I was elected because kids in our state aren't being taken care of as well as they should be, and I think we can change that. Oklahoma ranks 39 in the nation for child-welfare. That means too many kids in Oklahoma (ONE in FOUR!) don't get dinner before they go to bed. Too many kids in Oklahoma don't have a pediatrician to go to when they are sick. And, too many kids in Oklahoma (more than 50 percent) aren't read a bedtime story.
I am passionate about creating change and educating our community about how we can make sure kids in Oklahoma are safe, healthy and ready to learn at school. I want to improve the lives of the kids in Oklahoma, but I can't do it all by myself! We need adults, like you, and other kids, like me, to work together to make kids a priority in our state.
| | |
| --- | --- |
| | You can vote for candidates who stand for kids. Those candidates want kids to get the best education possible, so they make sure the state budget protects schools. They also want the more than 10,000 Oklahoma kids in state custody to have safe, permanent homes, so they keep the DHS case workers that advocate for kids well-funded. |
| | You can call or write a letter to your elected official reminding her how important kids are for our state's future. Kids who come to school fed and healthy do better in school, and kids who do better in school grow up to be more productive adults. |
| | You can donate or volunteer at a local nonprofit. There are food banks, foster care agencies, libraries, early childhood centers and more! You just have to find a mission that you care about and begin giving back! |
| | You can give a kid in state custody a safe home by becoming a foster family or providing respite to foster families so they can have a break. Call Sunbeam Family Services if you are interested in becoming a foster family. |
| | You can make sure kids have books at home by donating books you've already read. If you have kids in your own home, make sure you read (and talk) to them every single day. Big brothers and sisters, you can read to your younger siblings too! |
Sincerely,
Justin Evers