Building strength, resilience in individuals and families.


Sunbeam and OICA Launch Search for Oklahoma's 2017 Kid Governor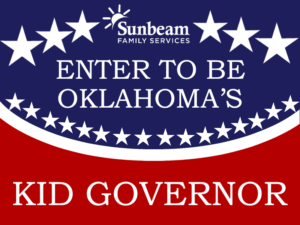 Sunbeam Family Services and the Oklahoma Institute for Child Advocacy (OICA) are looking to select its second Oklahoma Kid Governor to be the voice and face of the agencies' "Vote 4 Kids" campaign that will address statewide issues affecting the well-being of Oklahoma's children.
To be selected as Oklahoma Kid Governor, candidates must be between the ages of 7 and 11 years old, live in Oklahoma, and submit a one-minute campaign video to Sunbeam Family Services outlining:
Who they are (name, age, school and where they live)
Why they want to be Oklahoma's Kid Governor
What qualities and skills as a spokesperson they will bring to the position
Talk about an issue involving the state's children that they think is very important and why it's important. The issue could be child abuse and neglect, education, foster care, physical or mental health of children or any topic chosen by the candidate.
Videos longer than one minute will be disqualified.
The person selected as Kid Governor in this statewide search should be out-going, able to speak well, have a sense of humor and be passionate about helping other people—especially kids.  In addition, the Kid Governor must be willing to travel to Oklahoma City to appear at live gatherings and in videos without compensation.
"Oklahoma Kid Governor will be a fun, but also a serious campaign to raise awareness about important matters affecting Oklahoma's children.  Kids can't vote so we adults have to vote for kids by keeping them a high priority in our own house but also in the State House," said Jim Priest, CEO of Sunbeam Family Services.
Oklahoma's Kid Governor will be selected March 10, 2017 by committee members from Sunbeam and OICA and will serve until the Oklahoma Kids Count Conference in fall of 2017. Kid Governor will make his or her inaugural appearance at Sunbeam Family Services Shine A Light dinner at the Downtown Embassy Suites, April 13. Throughout the "Vote 4 Kids" campaign, he or she will do some public speaking and will appear in short video presentations to help raise awareness of issues affecting children and to help make those issues a priority in the minds of Oklahoma's citizens and policy makers.
Oklahoma's first Kid Governor Justin Evers represented Oklahoma's children by helping to raise awareness about foster care, the need for quality education, poverty and hunger across the state.
Please submit your Oklahoma Kid Governor videos by March 3, 2017 to Taprina Milburn at tmilburn@sunbeamfamilyservices.org or post to the Sunbeam Facebook Page www.facebook.com/SunbeamOKC.
---
A Note from Last Year's Kid Governor, Justin Evers
My name is Justin Evers and I am the Kid Governor of Oklahoma. I was elected because kids in our state aren't being taken care of as well as they should be, and I think we can change that. Oklahoma ranks 39 in the nation for child-welfare. That means too many kids in Oklahoma (ONE in FOUR!) don't get dinner before they go to bed. Too many kids in Oklahoma don't have a pediatrician to go to when they are sick. And, too many kids in Oklahoma (more than 50 percent) aren't read a bedtime story.
I am passionate about creating change and educating our community about how we can make sure kids in Oklahoma are safe, healthy and ready to learn at school. I want to improve the lives of the kids in Oklahoma, but I can't do it all by myself! We need adults, like you, and other kids, like me, to work together to make kids a priority in our state.
| | |
| --- | --- |
| | You can vote for candidates who stand for kids. Those candidates want kids to get the best education possible, so they make sure the state budget protects schools. They also want the more than 10,000 Oklahoma kids in state custody to have safe, permanent homes, so they keep the DHS case workers that advocate for kids well-funded. |
| | You can call or write a letter to your elected official reminding her how important kids are for our state's future. Kids who come to school fed and healthy do better in school, and kids who do better in school grow up to be more productive adults. |
| | You can donate or volunteer at a local nonprofit. There are food banks, foster care agencies, libraries, early childhood centers and more! You just have to find a mission that you care about and begin giving back! |
| | You can give a kid in state custody a safe home by becoming a foster family or providing respite to foster families so they can have a break. Call Sunbeam Family Services if you are interested in becoming a foster family. |
| | You can make sure kids have books at home by donating books you've already read. If you have kids in your own home, make sure you read (and talk) to them every single day. Big brothers and sisters, you can read to your younger siblings too! |
Sincerely,
Justin Evers