Building strength, resilience in individuals and families.
Building Healthy Brains
Infant and Early Childhood Mental Health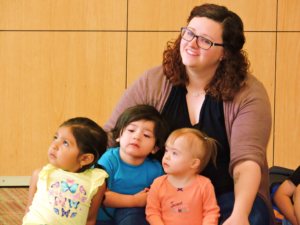 An important part of our program is promoting mental health and well-being among infants, young children, parents and staff. It is our goal to minimize the impact of stress and trauma as a way to prevent more significant mental health issues from developing. When mental health issues do arise, our program offers specialized support and intervention by highly trained licensed or licensed-eligible mental health professionals who specialize in working with families with and caregivers of infants and young children.
Infant/Early Childhood Mental Health Consultation
Specially trained mental health professionals provide mental health consultation in each classroom.
Support for positive, nurturing relationships between infants, very young children and their caregivers.

Family therapy is offered that focuses on the parent-child relationship and ways to support the child and family.
Conscious Discipline

Sunbeam Family Services programs embrace Conscious Discipline, a social emotional classroom management program that is based on current brain research, child development information and developmentally appropriate practices.  Conscious Discipline is built on three major premises:

Controlling and changing ourselves is possible and has a profound impact on others.
Connection governs behavior.
Conflict is an opportunity to teach.
Relationship Focused Parent Education and Support
We view parents as the experts on their children and our goal is to partner with them to promote well-being. Parenting can be challenging and having support can be helpful in understanding challenging behavior and how to respond. Relationships are important to development in the earliest years and our individual and group support can help reduce challenging behavior by improving connection and understanding what behavior is communicating.
For more information about Sunbeam's Infant/Early Childhood Mental Health program, contact Sunbeam's Early Childhood Mental Health Coordinator, Amy Chlouber, LPC-S, 405.609.1958 or email achlouber@sunbeamfamilyservices.org.